Hey hey, you ultra handsome dumpling.
How have you been, amazonian queen?
Let's just jump into the creative update.
THEATER WORK
The maelstrom of change which marks my life continues to wildly whirl. I have been pleasantly preoccupied, per usual, as I continue to gain creative professional experience. Because time flies, many months ago I mentioned that I was searching around for a new theater to join. I landed at a playhouse in the heart of Cambridge, MA where I'm super lucky to assist a very cool Executive Director. The support I provide is mostly administrative, and I love that. I participate in program planning and management, and I spend alot of time communicating with actors. Just to repeat a sentiment I've been screaming over and over again throughout the Broke Bridget blog - you know (more serious expression) - if I'm ever going to be qualified for a salaried creative position, I need to focus on acquiring the necessary experience. Sometimes when I'm hunting down an actress' elusive headshot, I'm silently hoping praying pleaing "Let this be the experience I should be building - so that my 40 year old self has a full time and salaried job in a creative environment." And I do think it is a productive step forward. I understand that this very cool Executive Director is taking time out of her overflowing schedule, in order to mentor me. I think that we have a great rapport. I really trust her guidance, and I'm grateful for the entire experience. So that, my beautiful reader, is one thing I've been busy with.
The playhouse is called Central Square Theater (CST). Equidistantly smooshed between MIT and Harvard, the theater is producing a thought-provoking series which contemplates the question "Who is a scientist?" Our upcoming play portrays a Muslim-American teenager who is passionate about biology. Here's a link where you can find more information and purchase tickets. The Boston Globe reviewed the production as an ambitious yet accessible collision of "[s]cience, poetry, faith, and romance." Sounds like a perfect Friday night! Grab one of your favorite people, and we hope to see you at CST!!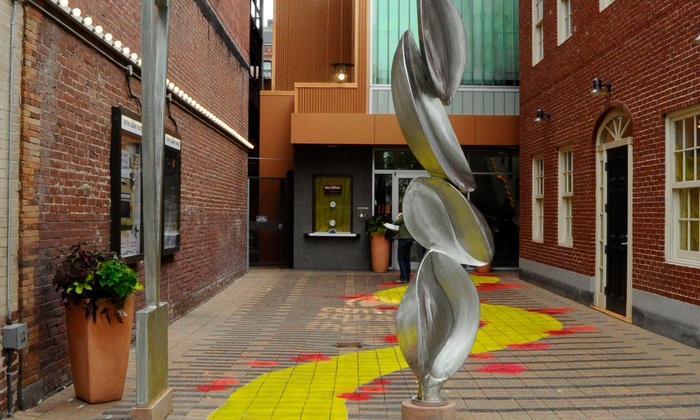 the entrance to Central Square Theater
THE FILM COMPANY
Nutmeg + Mustard

www.nutmegandmustard.com
an arthouse film production co.
I've launched the first incarnation of the company's website, and it's basic. Definitely in progress. But my deadline was this week, and I was firm with myself about meeting that deadline, so I published a simple site. Right now it's a single webpage, but over the course of this year I will be completing and sharing additional pages. I'm not too proud of it yet, but it'll stay online so I can share my cinematic vision and hopefully - fingers crossed - snag the attention of any collaborators who may be interested.
Saraghina and Gloria Morin, two worship worthy characters from the Italian film
8½
I've been meeting really active, amazing, and experimental artists. Last night I met an actor who had the sort of off-center, vague, and gothic sense of humor that I enjoy. We snickered about sinister metaphors and swapped closeted creative fantasies, both of us excited by meeting a kindred nerd. It was one of those brainstorming chats where you're riffing inspiration, and the other person is like your mirror or your lightning rod. I'll probably never see this kid again, but for me it was a clarifying conversation, and here goes the part of our chat which was delightful and which has stuck with me:
ACTOR: "I might make a painting where the world is ... (cautious pause and glance) ... molten lava!"
ME: (wide eyes) "OOOOh my gawd yes do it."
ME and ACTOR adolescently snickering.
ACTOR: "Ha, really? Yeah probably. I've never actually said that out loud before."
ME: "But do it. You gotta paint it."
ACTOR: "So tell me about the film company."
ME: "Take Spike Lee. Keep the all black cast, but make the production as bougie as fucking possible."
ACTOR: "Cool, with a whole bunch of gay on top."
ME: "Yeah. I really love queer literature and cinema. And just very visually beautiful interpretations of literature with black and brown actors. I - personally - am yearning to watch something like that."
ACTOR: "Wait, let me get my phone so I can show you my friend's film. They used a great camera..."
Then we started talking about cameras and color correction, which is less inspiring than birthing ideas. But there was a switch in me when this guy said "with a whole bunch of gay on top." Inside my head, I've spent the past few weeks reframing - or maybe more clearly understanding the frame I'm already in - but articulating to myself who I am and how this identity is gonna come through in my filmmaking.
(Conversations can be cathartic like that for me, which is why I really love talking to other people.)
I'm a black American who reads, who obsesses over indie films, who is bisexual. The collision of these elements is the mission of Nutmeg + Mustard. I am not satisfied with the webpage that I published this morning, but my cinematic vision has crystalised, and I want this vision out in the ether. Now if a producer or actress or financier, who possesses sympathetic stirrings, comes across my reworking of Virginia Woolf's with a black cast - then maybe they will contact me at seeds@nutmegmustard.com.
Frances - (throat clearing) Notice that the comment boxes have been left open... Request granted.
Andrew N - Ours def was a cathartic conversation. A chance encounter brimming with kismet, cheers.
Iryn, Jenn, and V - We've shared conversations for so many years! Let's have them for so many more.
And YOU, divine beast. If we were sitting together, I'd say "Wanna see a play? You want another brownie or a cup of water? You tired? How are you feeling?" Because I heart ya. Stop by again, okay.

fake and friendly lion roar + a sleepy hug
Bridget, forever broke and forever yours

xxoo